Urethane open end synchronous belts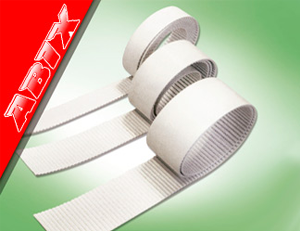 ABIX Urethane Open End Synchronous belts are made of
thermoplastic polyurethane.
Tension members could be made of steel, stainless steel,
Kevlar TM or polyester cords.

Available profiles:
MXL, XL, L, H, XH, XXH, T5, AT5, T10, AT10, T20. AT20. HTD3M/
S3M/RPP3M, HTD5M/S5M/RPP5M, S4.5M. HTD8M/
S8M/RPP8M, HTD14M/S14M/RPP14M,HTD20M.
Advantages of Urethane Synchronous belts:
1. Fine size stability.
2. Suitable for Food & Drug industry applications.
3. High precision linear positioning.

More PRODUCTS