Urethane kevlar TM, truly endless synchronous belts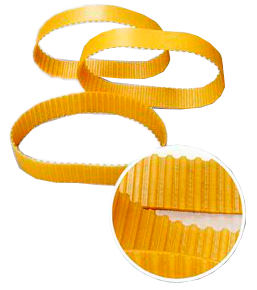 ABIX Urethane Kevlar TM, truly Endless Synchronous belts are made
of thermoplastic polyurethane, with continuous spiral Kevlar TM cords.
They are specially suited for power transmission and conveying with
high loads and high speeds (up to 10000 rpm]. Applied in corrosive
environments & food industry where steel is not resistant.
Available profiles:
MXL, XL, L, H, XH, XXH, T5, AT5, T10, AT10, T20, AT20,
HTD3M/S3M/RPP3M, HTD5M/S5M/RPP5M, S4.5M,
HTD8M/S8M/RPP8M, HTD14M/S14M/RPP14M, HTD20M
More PRODUCTS